Reviewed is a team of product experts (geeks, in truth) that put in the hard work of testing products so you don't have to. We built an entire test lab in the heart of Cambridge, MA just to make sure that when we say something is worth your money, we can back it up with good old-fashioned science.
Have you ever thought about why dogs love fetch so much? My dog Addy is more than willing to chase a ball for hours on end—as long as you're throwing it, she's going to chase it. Personally, it doesn't seem like that much fun, but if it makes her happy, who am I to question it?
When we heard about the GoDogGo Fetch Machine, which launches balls for your pooch, my first thought was that it would be perfect for Addy. However, other automatic fetch machines have less-than-impressive reputations, as they're prone to jamming and breaking, so we wanted to try this one out for ourselves to see if the machine was really worth its (high) price.
What is the GoDogGo Fetch Machine?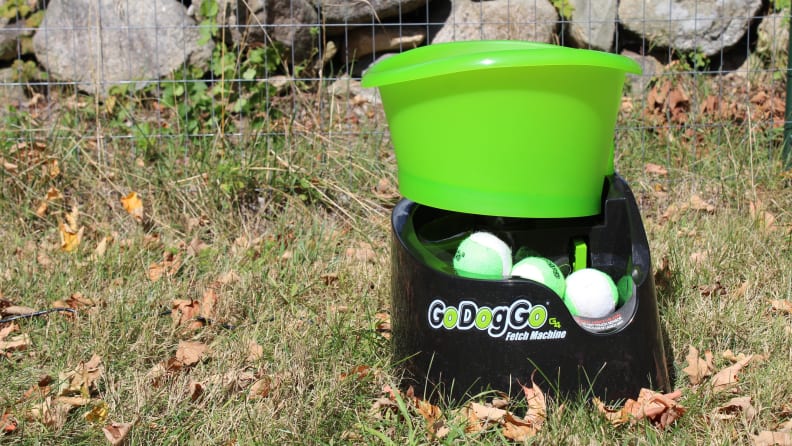 The GoDogGo Fetch Machine is an automatic ball launcher for dogs—in fact, the company claims it was the first auto launcher, as it's been around since 1999.
The whole concept is really simple: The machine will launch any balls between 1.75 and 2.6 inches in diameter for your dog—without you having to lift a finger. The machine can hold up to 25 balls at a time, and it can easily be reloaded by dropping balls in the green bucket on top of the unit.
How do you set it up?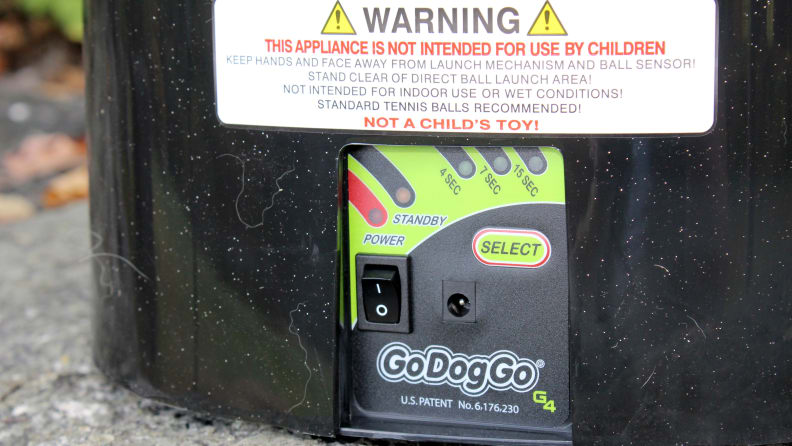 All in all, we thought the GoDogGo Fetch Machine was easy to set up and use. First, you have to decide whether you're going to plug it into an outlet or install batteries (not included). I decided to drag an extension cord from the house to the field where Addy plays, mostly because we didn't have enough D batteries on-hand. In the future, though, it would definitely be easier to have the machine run off batteries.
From there, you need to adjust the distance setting, which is located on the bottom of the unit. It's essentially just an elasticized tab that you place into the low, medium, or high slot, depending on how far you want the machine to propel the ball. We picked high to start, because our field is huge and… why not?